Unnumbered list item 21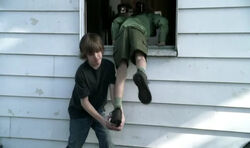 List title
Got a boy scout mauled by dogs
Unnumbered list item 21 was an unnumbered item on The List.
Got a boy scout mauled by dogs
[
]
Earl runs into Sonny, an old friend, in prison that shows him the way to survive … be invisible. Earl has realized that while he's in prison, he must put the list away and put nice Earl away for a while to survive. And once Earl's old friend Sonny rats him out to Glen Shipley, another inmate who is on Earl's list. As a kid, Earl used Glen, who was a boy scout, to break into a house but when Glen was set upon by the guard dogs Earl fled. Earl steps up to Sonny and gets thrown in the hotbox with Glen who is ready to kill him.
To make up the past to Glen, Earl made him a weapon however; Glen used it to stab Earl. Earl finds out that Glen messes up his chances at parole every time and he wants to know why, but Glen doesn't make it easy for Earl to help. Earl eventually finds out that Glen feels like he can't survive outside prison as everyone looks at him like he's a criminal. He reveals that he was sent to juvenile hall for the burglary and got so used to being in jail he couldn't imagine surviving in the real world. When Glen reveals his biggest disappointment was not getting the last two scout badges he needed for an honor sash, Earl decides to help him. Calling in favors from the inmates, Earl helps Glen earn the two badges and gets the sash, and with his newfound confidence manages to make parole and live a good life. This not only allows Earl to cross him off the list, but also all the other inmates let Earl off with the favors he called in since they were sick of Glen's attitude.