Unnumbered list item 22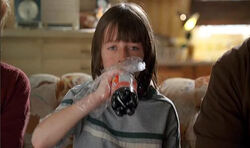 List title
Made a healer boy scared of his own hands
Unnumbered list item 22 was an unnumbered item on The List.
Made a healer boy scared of his own hands
[
]
While Earl is in a coma, Randy tells Joy they have to find the young faith healer called God's Little Finger who helped them before. They head off to find the healer, only to discover the young boy has lost his faith. Gerald changed his mind about helping people after he saw Earl and Joy hurt people on the news. Randy shows him Earl's list to prove that Earl has turned his life around, but when Joy mouths off, the boy shuts down again.
After Gerald agreed to help them when he finished seeing Darnell's videotapes of Joy "doing good things", Randy and Joy along with the boy's mother bring the faith healer to Earl's room. Everyone including Catalina who believed in faith healers, gathered and watched. The young boy tries, but nothing happens. His father walks in and even stopped his son from trying again without the life support machine that keeping him alive, only to tell the boy that the whole faith healer trick was fake. He made the whole thing up so they could make money. In the end, the truth ends up setting the young boy free to be a normal kid, even though his mom was so disappointed in her husband for using their son and his "healing powers", thus cheating sick people of thousands of dollars. Randy takes the liberty of crossing it off the list and as he does this, he realizes that Earl is becoming stronger. Turns out the best way to help Earl is the list.