Unnumbered list item 29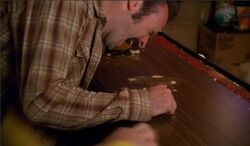 List title
Put a dent in the Crab Shack bar
Unnumbered list item 29 was an unnumbered item on The List.
Put a dent in the Crab Shack bar
[
]
Earl decides to fix another item on his list. The day he dented the bar at the Crab Shack is actually the same day as the anniversary of his marriage to Joy. The story takes him back to a few days after they got married in 1999. Randy puts together a surprise anniversary party at the Crab Shack,but all the party guests turn out to be Joy's ex-lovers. Earl's cousin Blake shows up at the Crab Shack. Blake uses Earl's head to put the dent in the bar. When Earl claims that he's better at breaking things with his head than Blake. Earl fixes the bar with dry wall mud, and crosses it off his list.