Unnumbered list item 3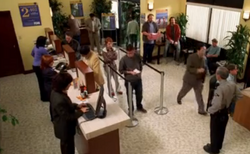 List title
Took donuts from a bank where I was not a customer
Unnumbered list item 3 was an unnumbered item on The List.
Took donuts from a bank where I was not a customer
[
]
Earl made Randy hold a box of donuts in a bank because he thought that Randy was the reason why he turned out the way he did. When no one was taking the donuts Randy tried to get the customers attention causing everyone to lay on the ground and Earl and Randy to run out of the bank.