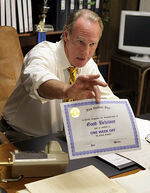 Warden Jerry Hazelwood
played by Craig T. Nelson is the warden who oversees the
A.J. Johnson Prison
and all the prisoners in it, though he knew that being a warden is never an easy job at all. He is the husband of
Governor Katherine Hazelwood
who is overbearing and runs his life. He tries not to make any mistakes to upset his governor wife and destroy their marriage. He appeared in
The Gangs of Camden County
when he first met and made a friend with
Earl
who helped him with his favors that reduced Earl's sentences before he got out of prison.
Before Season 3
Edit
Before he became the warden, Jerry Hazelwood was just a regular nice guy, though he was a
1980s
porn star by the name Richard Jammer before he quit and married
Katherine
years later. And still, he's the same kind of guy who one enjoyed having a sweet life, having fun such as playing "Guitar Hero III" until his wife Katherine became the governor and ruined all his fun. She even gave him a job with the National Guard in 2001, but that didn't work as he once said "
Training? No, these guys don't need training. We're the National Guard, we're never gonna fight in a war.
" Eventually His wife got Jerry a new job as the warden of
A.J. Johnson Prison
but unfortunately he just kept making mistakes: letting over 270 prison inmates escape after he allowed them to make ladders, and created a mandatory Bring Daughter to Work Day which was a total flop, and even a nightmare for all prison guards' daughters.
Craig T. Nelson and Jason Lee worked together on The Incredibles. Nelson was Bob Parr, the main protagonist and Lee was Syndrome, the main antagonist. Ironically, their roles are switched in the show
Community content is available under
CC-BY-SA
unless otherwise noted.